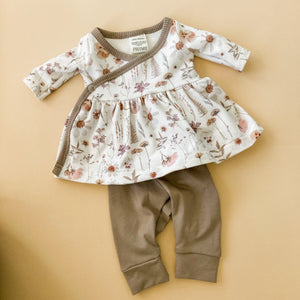 The outfit:
A wrap style top paired with a Jersey paint.
The fabric:
A soft European Oeko-Tex fabric. 95% Cotton 5% Elastane. We recommend washing on cold and hanging to dry or choosing a low heat cycle.
The Sizing:
Please carefully consider your purchase by reviewing the size chart below, every child is different so not all sizes will fit alike. Due to the unique nature of our business, we do not accept returns. 
Don't see your size? We can sew your desired size with a 3-4 week TAT.
| | | | | |
| --- | --- | --- | --- | --- |
| Size | Height | Chest (in) | Waist (in) | Hips (in) |
| Newborn | 19-21 | 15 | 14 | 15 |
| 0-3M | 21-24 | 16.5 | 15 | 15.5 |
| 3-6M | 24-26 | 17 | 15.5 | 16 |
| 6-9M | 26-37 | 17.5 | 16.25 | 16.5 |
| 9-12M | 27-29 | 17.5 | 15.75 | 17 |
| 12-18M | 29-31 | 18.5 | 17 | 18 |
| | | | | |