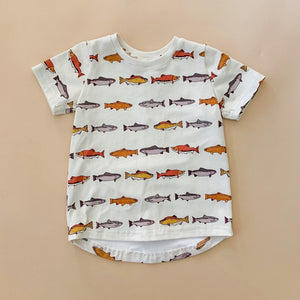 The outfit:
Fishy tee featuring a curved hem.

The fabric:
A lovely American milled fiber. 95% Organic Cotton, 5% Spandex.
The Sizing:

Please carefully consider your purchase by reviewing the size chart below, every child is different so not all sizes will fit alike. Due to the unique nature of our business, we do not accept returns. 
Don't see your size? Unfortunately, we're unable to restock this item.
| | | | | |
| --- | --- | --- | --- | --- |
| Size | Height | Chest (in) | Waist (in) | Hips (in) |
| Newborn | 19-21 | 15 | 14 | 15 |
| 0-3M | 21-24 | 16.5 | 15 | 15.5 |
| 3-6M | 24-26 | 17 | 15.5 | 16 |
| 6-9M | 26-37 | 17.5 | 16.25 | 16.5 |
| 9-12M | 27-29 | 17.5 | 15.75 | 17 |
| 12-18m | 29-31 | 18.5 | 17 | 18 |
| 18-24m | 31-33 | 19.5 | 18.5 | 18.5 |
| 2T | 33-36 | 21 | 19.5 | 19.5 |
| 3T | 36-39 | 22 | 20 | 21.5 |
| 4T | 39-44 | 23 | 21 | 22.5 |
| 5T | 44-50 | 24 | 21.5 | 23 |
| 6/7 | 48-52 | 25 | 22 | 24 |
| 7/8 | 50-56 | 26.25 | 22.5 | 25 |
| 8/9 | 54-58 | 27.25 | 23.25 | 26 |
| 9/10 | 56-62 | 28.5 | 24 | 27 |