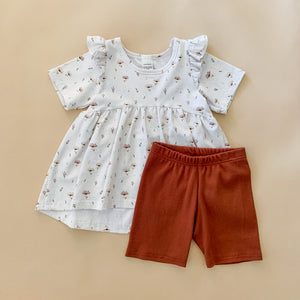 The outfit:
Dainty floral peplum shirt with ruffle sleeves paired with a bike short.

The fabric:
Top: A soft European fiber, produced to Oeko-Tex standards and printed with Organic pigment. 95% Cotton 5% Elastane. 
Shorts: A soft European rib knit. 95% cotton 5% spandex.
The Sizing:

Please carefully consider your purchase by reviewing the size chart below, every child is different so not all sizes will fit alike. Due to the unique nature of our business, we do not accept returns. 
Don't see your size? This is the last of this batch and cannot be restocked. Thank you.
| | | | | |
| --- | --- | --- | --- | --- |
| Size | Height | Chest (in) | Waist (in) | Hips (in) |
| Newborn | 19-21 | 15 | 14 | 15 |
| 0-3M | 21-24 | 16.5 | 15 | 15.5 |
| 3-6M | 24-26 | 17 | 15.5 | 16 |
| 6-9M | 26-37 | 17.5 | 16.25 | 16.5 |
| 9-12M | 27-29 | 17.5 | 15.75 | 17 |
| 12-18m | 29-31 | 18.5 | 17 | 18 |
| 18-24m | 31-33 | 19.5 | 18.5 | 18.5 |
| 2T | 33-36 | 21 | 19.5 | 19.5 |
| 3T | 36-39 | 22 | 20 | 21.5 |
| 4T | 39-44 | 23 | 21 | 22.5 |
| 5T | 44-50 | 24 | 21.5 | 23 |
| 6/7 | 48-52 | 25 | 22 | 24 |
| 7/8 | 50-56 | 26.25 | 22.5 | 25 |
| 8/9 | 54-58 | 27.25 | 23.25 | 26 |
| 9/10 | 56-62 | 28.5 | 24 | 27 |